The Republican Liberty Caucus of Arizona held their quarterly meeting on July 24 and unveiled their fourth annual legislative scorecard. The 2021 Liberty Index scores legislators based on the principles of individual liberty, limited government and free markets. Twenty key floor votes were scored, and bonus/penalty points were issued for key committee votes or for cosponsoring certain bills.
One of the new features added to this year's scorecard is the Snapshot page. This helps put the numbers into context by comparing the highest & lowest scorers. It also shows the gap between Republicans & Democrats.

See how your legislators scored: https://t.co/x12EZPbQUY pic.twitter.com/lQYw6tGZkw

— RLC of Arizona (@RLCAZ) July 26, 2021
The theme for the quarterly meeting was "Principles Matter," and guest speakers included State Representative Jacqueline Parker and State Senator Warren Petersen. Both spoke about their specific principles they uphold when voting on legislation.
Rep. Jacqueline Parker was given the Rookie of the Year award as the highest scoring freshman legislator, with a Liberty Score of 94. State Senator Warren Petersen was given the Champion of Liberty award for earning the only perfect score in the Senate. After factoring in bonus points, Senator Petersen's Liberty Score was 102.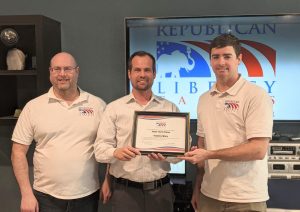 State Representative Shawnna Bolick was the only House member to earn a perfect Liberty Score of 100, so she will receive the Champion of Liberty award for the House.
Among the other top scorers were two legislators endorsed by the Republican Liberty Caucus of Arizona. State Representative Travis Grantham, currently serving as the Speaker Pro Tempore, earned a Liberty Score of 95 and State Representative Bret Roberts earned a Liberty Score of 94.
The lowest scoring Republicans were State Representative David Cook at 62 and State Senator Paul Boyer at 68.
See how Arizona's legislators scored on the 2021 Liberty Index: https://www.scribd.com/document/517206063/Liberty-Index-2021